In October 2014, Anja Petschauer spoke at Utah Global Forum 2014. Click above to hear her speak on the European market, giving numerous facts and figures.
---
Germany's Saarland Selected by State of Utah as Trade Representative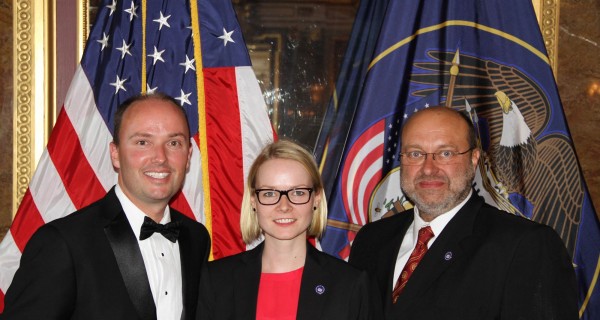 The Saarland Economic Promotion Corporation, gwSaar, is a partner for active relocation management and foreign trade and investment promotion. Now, its services have been extended: since June 2014, Saarland Economic Promotion Corporation (gwSaar) has been appointed as the official new representative of the U.S. State of Utah within the European Union. The photo to the right is from the pinning ceremony, marking this prestigious honor.
Utah is an attractive location with a focus on logistics, high-tech companies, and successful industrial operations. Honored by Forbes magazine as one of the Top 3 locations in the category Best State for Business and Careers, Utah has received this distinction for the past five consecutive years. Utah offers great potential for opportunities with partnership and cooperation with many of its successful companies, especially in the fields of IT, life science, and aerospace.
Companies can profit from Germany's Saarland's strong network of companies, institutions, clusters and policy when it comes to internationalizing business. gwSaar welcomes companies to contact them and is pleased to support them in obtaining a foothold in the world´s biggest economy.
---
Germany's Saarland Installs Utah Help Desk in Berlin
One contact is all you need to enter the U.S. market. The newly installed Utah Help Desk supports European companies ready to expand their business, 24/7. Utah has been repeatedly awarded the best U.S. state for business development. So, why not explore the U.S. market from a spot that is home to successful companies from all over the world?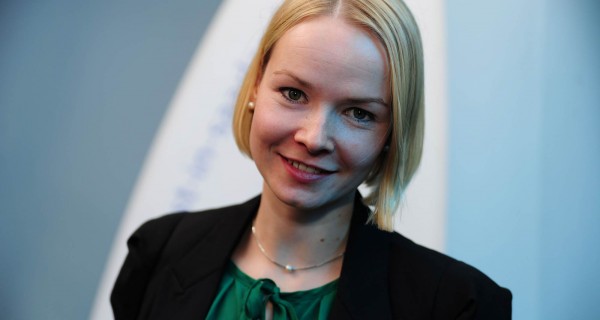 Anna Derschang, Project Manager in the Berlin office, summarizes the services available: "First, the Utah Governor's office of economic development along with gwSaar offer an overview of your sector in Utah and the US. As your project moves forward, our professional team can support you in researching locations and finding trustworthy partners; for example, in logistics, financial and legal advisory services or staff recruiting. In many aspects, US regulations differ from the EU. Establishing your company, approval procedures and regulatory issues are all barriers that can easily be overcome with competent partners."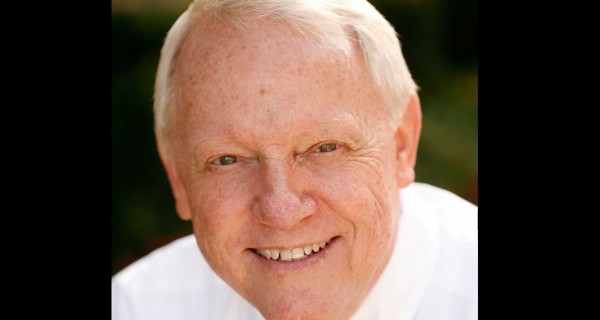 The Berlin Team is supported by Marlon Berrett, longtime partner of the gwSaar and Utah's EU representative in Utah, "We wanted to make the whole process for companies as convenient as possible. With our Utah office, time differences are not an issue. And, as members ourselves of the Utah business community, we are aware of what it takes to be successful in Utah and the US."
For more information, please contact Marlon Berrett at » to.mrberrett@gmail.com or 001 801-699-0765.
---
Saarland Economic Promotion Corp. CEO Interviewed about New Agreement Signed with Utah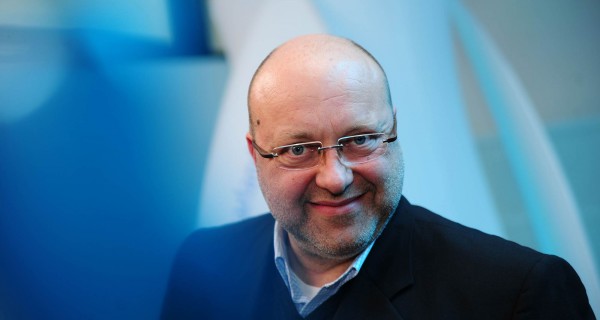 The Saarland Economic Promotion Corporation (gwSaar) has recently been named Trade Representative of the State of Utah. To understand better what this means, gwSaar CEO Thomas Schuck responds in an interview.
gwSaar was selected through a European tender to represent Utah in the EU market. How would you describe your new job?
As an official representative of Trade Utah, we have two primary functions. We support businesses in Utah as they plan to enter the EU market. This ranges from the site research to matchmaking for all aspects of establishing a business in Europe. We also support European companies entering the US market, specifically into Utah, one of the most dynamic U.S. states.
What qualifies gwSaar for this task?
gwSaar has worked for many years closely with the Governor`s Office of Economic Development, GOED, as well as businesses and players of all major industries in Utah. This network provides companies with the intensive and efficient care needed in establishing a company abroad. All requests, ranging from location information to funding opportunities, can be answered quickly and easily. At the same time, gwSaar has a close-knit network within Europe that facilitates access to the EU market, supplying companies with the right information to be successful in Europe.
Where can companies turn should they wish to do this?
We have specifically set up a Help Desk in the gwSaar Utah Berlin office. With the Saarland state representation and its close proximity to the American Embassy, all requests come in and are processed via custom service teams.
Is the service free of charge?
Supported by GOED, the service that gwSaar provides is complimentary for the company. As the company pursues other necessary steps in terms of entering a new market, this work corresponds to usual business practices and is negotiated between the partners.
---
Comment from Director of International Trade & Diplomacy
"With gwSaar we have recruited exceptional talent which will be the key to increasing Utah's recognition as a global business destination," said Brett Heimburger, Director of the International Trade and Diplomacy Office. "The reorganization better positions GOED to strategically target foreign direct investment into Utah and allows us to better address the diverse international needs of Utah companies."
Brett Heimburger
Director, International Trade and Diplomacy
---
Contact Information
For more information on services for entering the U.S. or European market, please contact:
Europe
Anna Derschang
» Business-utah@gwsaar.com
U.S.
Marlon Berrett
» to.mrberrett@gmail.com
Don't forget to "like us" on Facebook! » Click here.