Traffic
Flug-Hafen-Saarland GmbH (fhSaar) manages the Saarhafen port Saarlouis / Dillingen under the SaarPort brand and the international airport in Saarbrücken under the brand SCN Airport Saarbrücken.
Saarbrücken Airport is the international passenger airport in Saarbrücken, the state capital of Saarland. The catchment area of the airport with approximately 6.5 million inhabitants covers both Saarland and neighbouring Rhineland-Palatinate, the French department of Lothringen and Luxembourg. Saarbrücken Airport offers a comprehensive range of flights with regular scheduled and charter flights within Germany and Europe.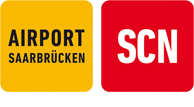 » Saarbrücken Airport www.flughafen-saarbruecken.de
fhSaar provides the entire infrastructure for the Saarhafen port Saarlouis / Dillingen including the port basin, quays, commercial areas and supply facilities for the handling of shipped goods. It provides links between the waterways, rail and road and thus enables development of the most important economic areas along the Saar River.