Industry 4.0 and the human factor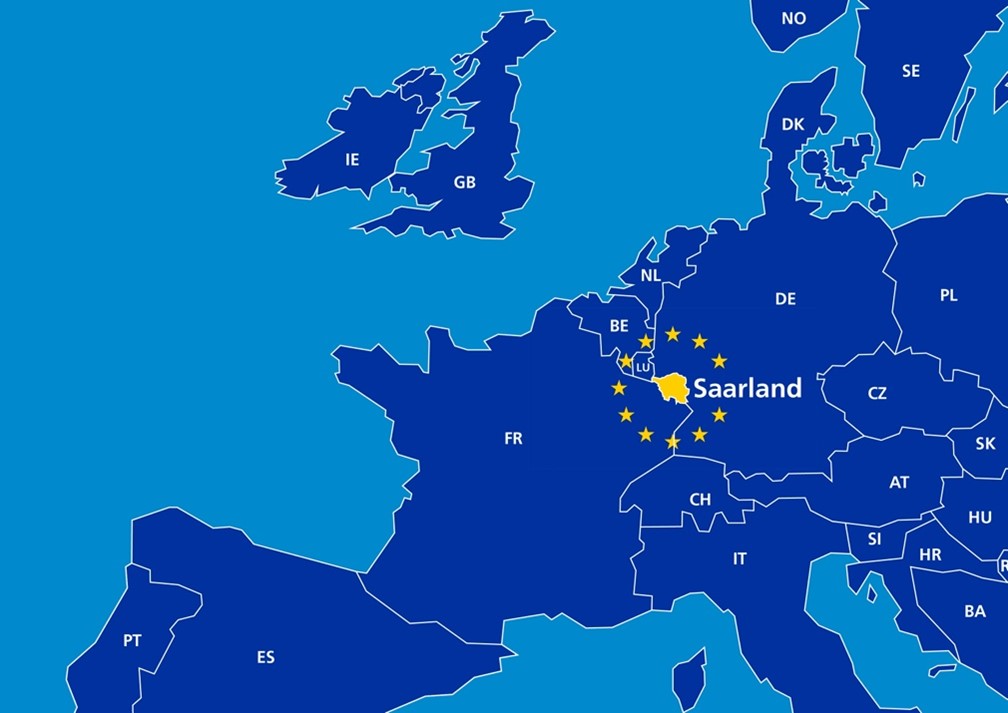 Germany's Saarland – an industrial hub that wins companies over with its central location
Comprehensive and integrated optimisation in line with the principles of Industry 4.0 represents a major challenge for many companies. As well as reorienting technical processes and introducing new technologies, the human factor is also key for this step forward into the industrial future. Two very different Saarland-based companies told us how they are tackling these challenges and why they have chosen to do so from Saarland.
Nobilia: Europe's largest kitchen manufacturer builds on state-of-the-art production processes and the work of its staff. As this interview confirms, Saarland offers exactly the skilled workers that it needs.
Centigrade: High requirements call for clear interfaces. This is definitely a task for these UX specialists from Saarbrücken, who make machines accessible and intuitive to use.
---
Nobilia: 'Success comes from people.'
Europe's largest kitchen manufacturer is currently building a new factory in Germany's Saarland. Dr. Lars M. Bopf, CEO of Nobilia-Werke, spoke to us about the importance of automation in the furniture industry, international markets, and key locational factors.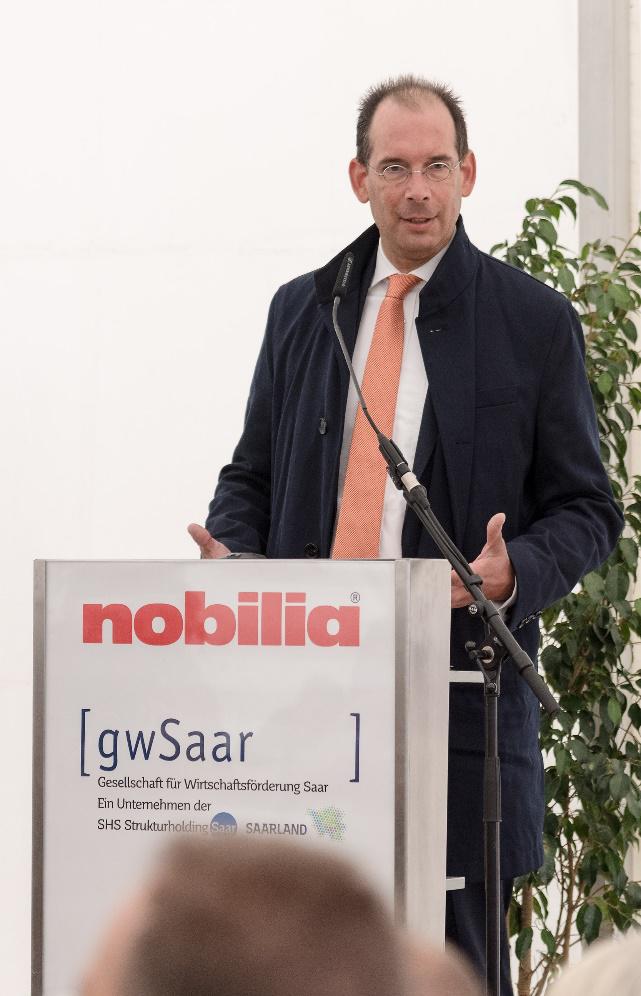 Dr. Lars Bopf, CEO of Nobilia, works with his employees to drive innovation in the furniture sector
Question: You are a traditional family company that is breaking new ground when it comes to production. Where does your capacity for innovation come from?
Dr. Lars M. Bopf: Success comes from people. This approach has always been the driving force behind Nobilia's corporate activities. Despite our size, our corporate culture is a family one with a strong sense of togetherness. This is a good foundation for promoting and systematically implementing innovations. We also never rest on our laurels: continually improving our products, processes, technologies and services is part of our company's DNA. This ongoing progress is not something that we leave to chance – it is addressed strategically. Every goal that we achieve gives us a boost for the next step forward.
Question: What does Industry 4.0 mean for Nobilia-Werke?
Dr. Lars M. Bopf: Every Nobilia kitchen is unique, and customer demand for customised products is also constantly growing. Increasing variance and consequently greater complexity in production and processing is not something that we could handle without networked systems and exchange of data between production facilities. Whether order forwarding via EDI, electronic recording and order processing in internal sales, production, or shipping by our modern delivery fleet with its new telematics system, digital processes have ensured complete transparency regarding individual customer orders. If employee input is required, they are informed by computer or a mobile device, and can make active corrections.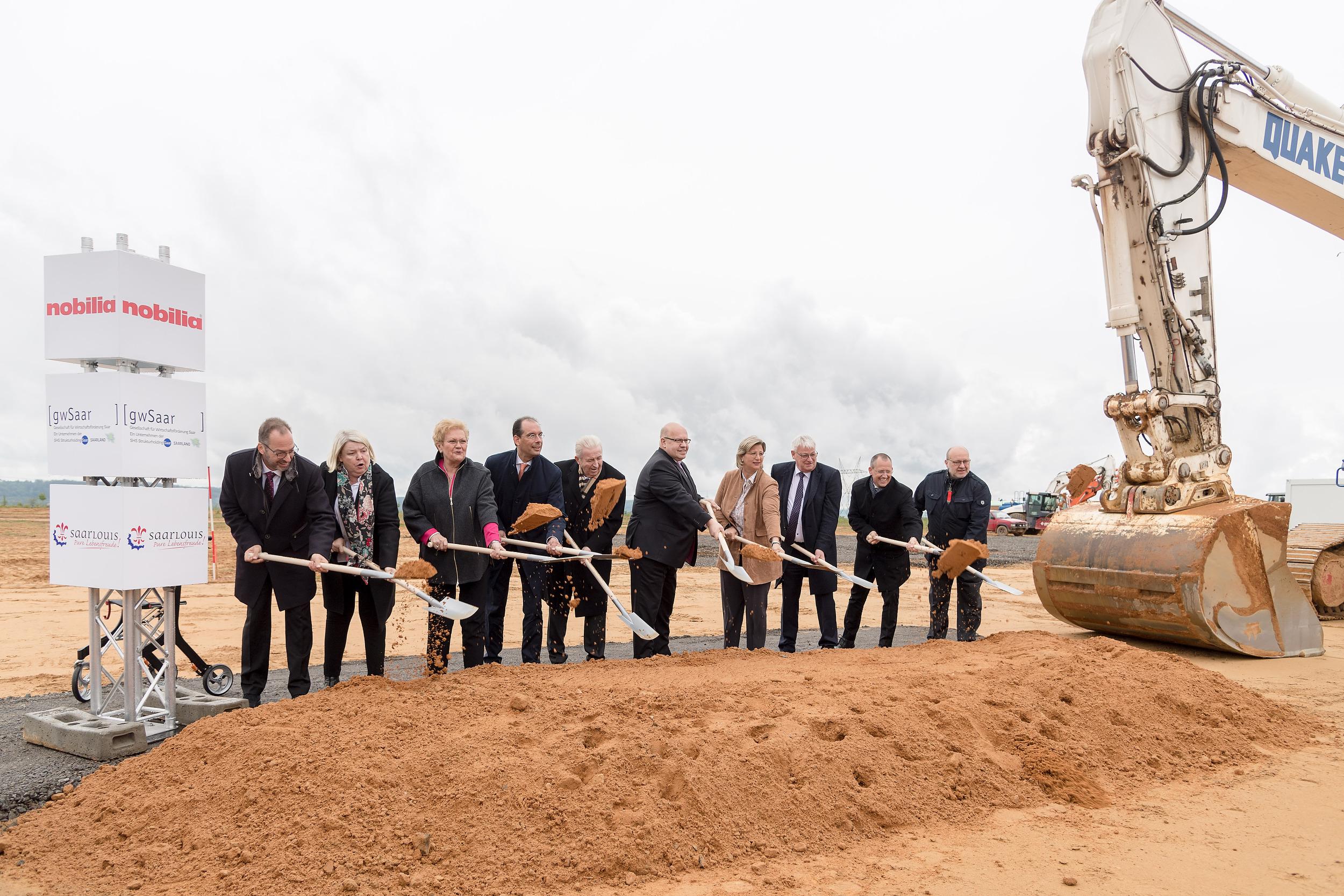 Breaking ground for the new Nobilia factory in Saarland, with Federal Minister of Economic Affairs Peter Altmaier and Saarland's Minister of Economic Affairs Anke Rehlinger
Question: Do new production processes represent a new challenge for your employees? And if so, what qualifications should young people be acquiring?
Dr. Lars M. Bopf: New production processes always represent a new challenge for employees. The knowledge required to operate our systems does not come from training alone. Cutting-edge technologies are becoming increasingly intuitive, but require new elements such as a deeper understanding of production processes. We are providing our employees with targeted training in this area. Technical interests and the motivation to constantly learn new things are indispensable in the modern world. In addition, social skills – such as professional interactions with team colleagues or problem-solving skills – are increasingly important. We already have a small core workforce in Saarlouis that meets these requirements, and their successful work can be clearly seen at Lisdorfer Berg.
Question: Dr. Bopf, production in Europe – and Germany in particular – is considered expensive. You have opted for Germany's Saarland as your location. Why? And what markets does Nobilia-Werke serve from Saarland?
Dr. Lars M. Bopf: German production for our high-quality furniture has proven its worth, so we kept to this approach when deciding on a new location. This is down to various factors. Proximity to France, our primary export country, is important to us. It is very easy to get to from Saarlouis. We are therefore geographically well placed to serve customers in France as well as other southern European countries. This saves transport costs and makes logistics easier. In addition, Saarland offers a well-structured pool of skilled personnel. Many people speak French here. With our strong links to France, this is also very attractive to us.
---
Centigrade: 'As well as developing and implementing new processes and IoT-capable production facilities, one of the most important aspects is the human factor.'
Transforming industry into a 'smart factory' is a major challenge for companies in many ways. As well as developing and implementing new processes and IoT-capable production facilities, one of the most important aspects is the human factor. There are numerous further training and professional education courses designed to get employees ready for new machines. Centigrade offers an alternative by developing interfaces that get new machines ready for employees. Thomas Immich, CEO of Centigrade, explains why Industry 4.0 means more than just new machinery, and why the human-machine interface needs rethinking.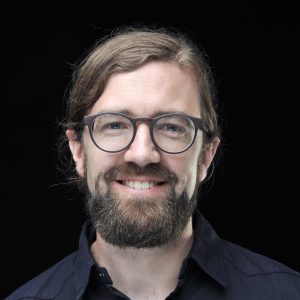 Thomas Immich, CEO of Centigrade, makes people the focus of development
Question: Centigrade views UX design and engineering as strategic aspects of developing new machinery, applications and processes. What does that mean?
Thomas Immich: In my view, the often rather vague concept of 'strategy' primarily means: 'Rather than remaining in a state of implementation, let's take a few smart steps towards significant change.' This motto continually guides our development of user interfaces for machinery and systems.
A good strategy is doubly vital in the UX sector: most users are overwhelmed by the quantity of features with which they are saddled on a daily basis. Targeted countermeasures are therefore needed to provide users with significantly fewer functions. This results in more satisfied users with greater skills experience, as well as in lower implementation costs, as many functions can be removed as early as the concept phase, or at least moved down the priority list.
Question: Industry 4.0 is increasing the level of automation, networking machines and processes, and enabling machines and parts to communicate with each other. What role does the human interface still play?
Thomas Immich: A very important one! Of course, machines – and robots in particular – are doing an increasing number of simple tasks. However, the complexity of the goods being produced and customer demand for personalisation are also increasing to at least the same extent. The flexible production dreamt of under Industry 4.0 is only possible if people continue to play a major role, although with different tasks to perform.
Take the example of our highly innovative long-term customer SEW-EURODRIVE: despite a very high level of innovation, the top management are absolutely clear that humans are the 'drivers of added value'. This is not my turn of phrase, but that of the visionary Mr Soder, the Technical Director of SEW.
Industry 4.0 therefore naturally involves future topics such as Artificial Intelligence, cobotics and autonomous vehicles. However, all of this must be understood, calibrated, controlled and taken responsibility for by humans! A self-explanatory and intuitive user interface is key to this.
Question: You work for major machinery manufacturers. What requirements do these companies bring to you?
Thomas Immich: Of course, every company that uses our UX services has its own very specific requirements. However, despite all of this individuality and the manifold efforts of automation specialists, component manufacturers, series and special machine manufacturers, and even system operators, at the end of the day there is an overarching requirement for old, rigid processes to be rethought, revisualised and made more efficient for the benefit of users. Users should enjoy operations and be able to achieve their goals without a handbook or expert training!
Question: What level of research does your company undertake?
Thomas Immich: Our research budget is heavily dependent on the previous financial year's economic developments. However, we are proud to say that we invest much more than the average in research and development. For example, we normally always have two BMBF-funded research projects running in parallel. We therefore proactively strive to work closely with research partners such as the Fraunhofer Institutes, the German Research Center for Artificial Intelligence (DFKI) and technical universities, to ensure that we consistently remain at the forefront of UX development. There are so many topics out there – some of them are not quite mature yet, but their time will definitely be coming soon.
We are therefore continually preparing for the moment when a customer contacts us and suddenly wants a major roll-out of a new approach that was merely a 'dream for the future' not so long ago. Our many research projects mean that we have a wealth of experience to draw on (including in failures), which helps us and our customers to mitigate the biggest risk of an innovative project.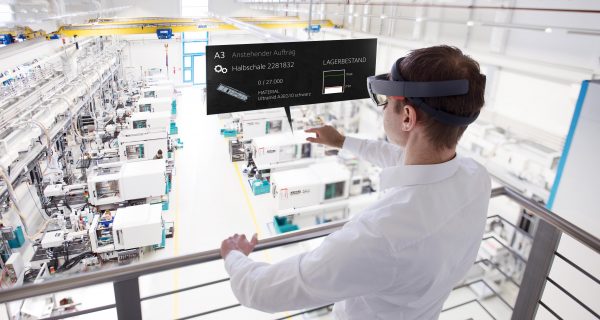 A vision for the future that is already technically feasible – monitoring and controlling machinery using AR. As a Centigrade research project shows, however, AR glasses need to be lighter and more ergonomic if they are to be accepted by users.
Question: Saarland has a strong research landscape with a variety of renowned institutes, in particular in the field of IT. Is proximity to research a locational factor for Centigrade?
Thomas Immich: Absolutely! Particularly the direct locational advantage of the university campus. We love being close to the DFKI, Max Planck Institute, CISPA Helmholtz Center for Information Security, and of course Saarland University.
Of course, physical proximity is currently less of a benefit due to Covid-19, but I am sure that things will eventually return to the status quo! And I look forward to once again taking five minutes to stroll over there, discuss an idea, and head back.
Fortunately, Saarland is not generally a state of long distances, meaning that collaborations with companies such as Festo or ZeMa can always be conducted without issue. Overall, we should work together to boost the public image of Saarbrücken's concentrated pool of IT, industry and UX power!