Saarland's head start
Central location (at the centre of Europe)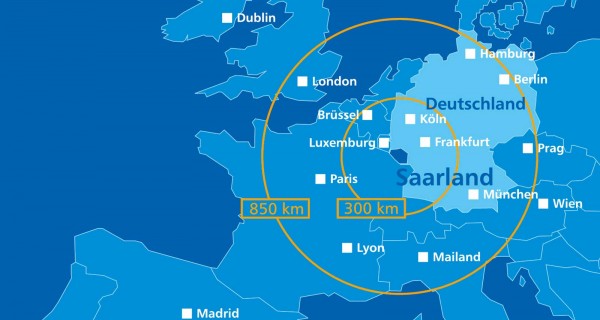 Many say they are located at the heart of Europe. But some need a telescope to look into neighbouring countries. In Saarland, on the other hand, we have our first contacts right outside our doors as we are able to speak to our French and Luxembourgian neighbours at the garden fence.
The location that we are offering is at the centre of the European region SaarLorLux, which guarantees highly profitable accessibility to almost every destination in Europe through excellent road, rail and waterway infrastructure.
---
Innovative industrial and research location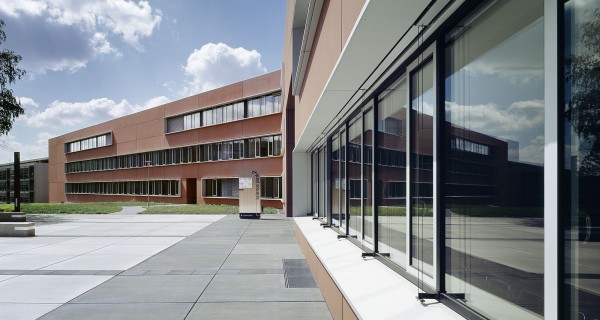 Production process automation. A car that warns the driver of danger. Knowing what the app is really doing. Intelligent sport mats. High tech surface coatings and catalysts from the nano sector. These are just some of the sectors that Saarland research teams are working on.
Saarland has a global reputation as one of the most important research locations in the sectors of IT and nano technology.
Many internationally renowned research institutes work here to create the future together with companies and international partners. A certainty that also reflects in the companies that are based here. There are good reasons why Google is a new partner in the » DFKI Deutsches Forschungszentrum für Künstliche Intelligenz (German research center for artificial intelligence).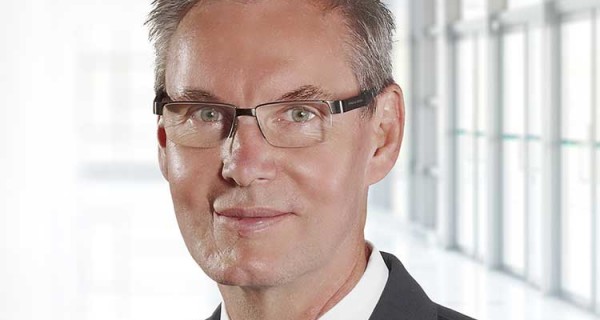 "We also carry out research in Saarland and the results of this research flow into industry and into companies. INM contributes to the attractiveness of Saarland as a research location with its research fields of interface materials, nanocomposite technology and biointerfaces. The transfer of knowledge and technology is at the forefront in its new innovation centre. This aims to transfer innovative materials for energy applications, medical surfaces and tribioligical systems from research into application. Comprehensive research is carried out on both the opportunities and the possible risks of nanomaterials."
Prof. Dr. Eduard Arzt, Scientific Director » INM – Leibniz-Institut für Neue Materialien gGmbH
Further cutting-edge research instituts providing application solutions that are in demand worldwide:
---
Qualified staff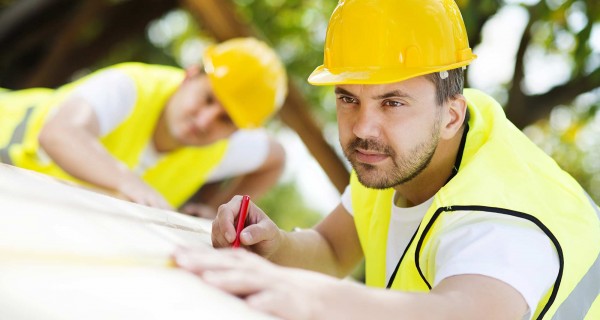 The employees in Saarland are well trained and motivated. These are characteristics that ensure high productivity and flexibility in Saarland operations. The traditional industrial experience means that acceptance of shift work is high and the fluctuation of employees is low.
The wide range of possible training from supported qualification in the company through to higher education at Saarland University and HTW Saar University for Technology and Economy ensure the availability of qualified personnel in the long term.
---
Quality of life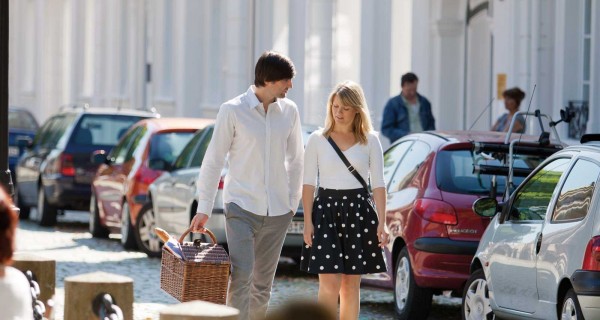 Visitors who come to Saarland are magically drawn back again and again. Saarland really is a region where you can live well. Besides the attractive location between France, Luxembourg and the rest of Germany, the attractive landscape between forests and the Saar and Mosel rivers, the capital city Saarbrücken also offers a very lively and colourful cultural scene for different age groups.
Here in Saarland we combine hard work and innovation, culture and enjoyment, nature and sport in a unique mixture of German Lebensfreude and French savoir vivre. Newcomers to Saarland quickly acquire a feeling of belonging: they enjoy the great hospitality and the charm of the border region.
---
Like a good espresso: small, strong and fast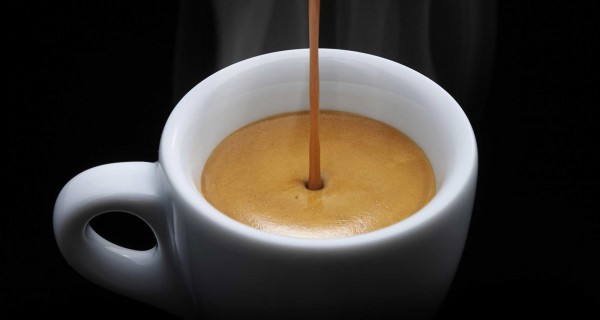 Saarland has the smallest area of all the German states. The distances are small, both geographically and for administration. This speeds up processes and decisions.
You will find a ready-made nest with our comprehensive » Service. Benefit from our professional location advice, support for the authorisation process all the way through to the production of your turnkey property and our qualified network of partners.